Georgie Gunmetal Diaper Clutch Black Bundle
"Leather feels so soft and the gunmetal styling looks great." - Chantelle
Description

An edgy twist on our classic black Diaper Clutch takes this master of disguise to a new level.

The Georgie Bundle exudes minimalist style and is everything a new parent needs to escape the house and get on with your day with baby in tow. From our award winning diaper clutch to the baby wipes case, pram clips and sanitiser holder we've got you covered! ⁠
⁠
Set includes:
Features

Nappy Change Clutch *5 clever pockets to store and organise up to 6 nappies, nappy rash creams, baby wipes and additional items like a spare onesie, a wet bag or disposable nappy bags *Waterproof lining *High quality vegan leather that won't scuff or crack despite years of use *Padding for baby's body and extra cushioning for baby's head *Secure magnetic closure allows for easy one handed opening *Unique pocket for your baby wipes (use our custom refillable wipes case for the perfect fit). *Wrist strap for hands free carrying and hanging off the pram *Australian Registered Design protected on the IP register of Australia Wipes Case *Clever zip closure and flip top lid keeps wet wipes from drying out *Fits up to 20 extra thick baby wipes *Translucent design so you know when to refill – no more empty wipes packet surprises! *Environmentally conscious and cost efficient, you can buy your baby wipes in bulk and refill as needed Mika Pram Hooks *Keeps your hands free & your essentials close by *Adjustable strap fits all prams and strollers *Durable black metal hardware *Metal spring-lock hooks deter theft Black Hand Sanitiser Holder *Gold clip keyring to attach to your keys, hand bag, nappy change clutch or baby bag. *Press stud closure. *Eco friendly, refillable 30ml sanitiser bottle dispenser included
Dimensions

Nappy Change Clutch *Folded: 27cm length x 16cm width x 5cm height *Unfolded: 74cm height x 68cm width Wipes Case *13cm x 21cm Hand Sanitiser Holder *Bottle size: 10cm x 3cm, 30ml volume *Holder size: 7cm x 3cm
Materials

Nappy Change Clutch *Premium materials made to last *Exterior: durable black vegan leather (polyurethane) *Free from BPA, PVC and phthalates *Gunmetal hardware *High performance waterproof lining (Polyester and TPU) *Padding: PE foam Wipes Case *Baby Safe EVA Mika Pram Hooks *Premium vegan leather *Heavy duty velcro *Durable black metal hardware Hand Sanitiser Holder *Made from durable, pebbled vegan leather (polyurethane)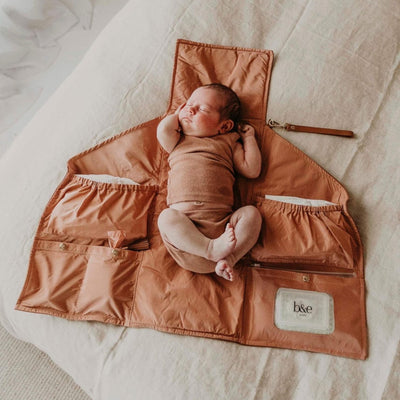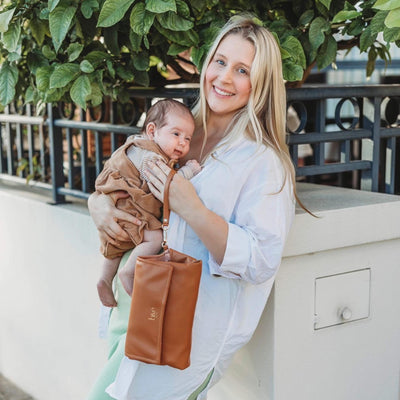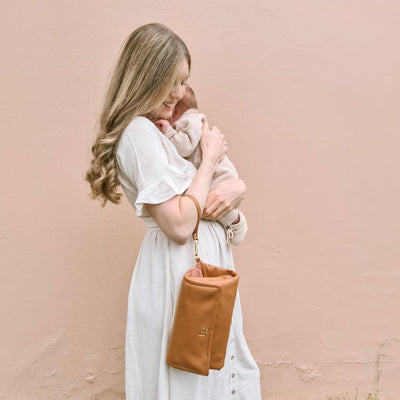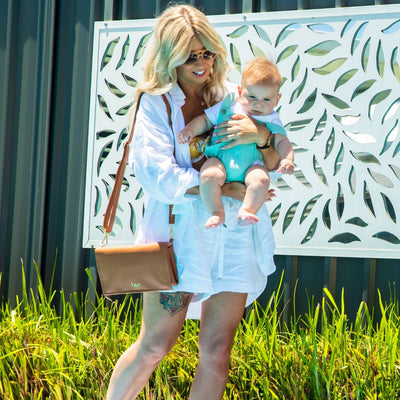 This will be your go to gift for all your pregnant friends till the end of time. Best product ever!
Georgie Gunmetal Diaper Clutch Black Bundle
Text me, Ben & Ellie!
Early access to exclusive offers, product drops and announcements.
By submitting this form, you agree to receive marketing text messages from us at the number provided, including messages sent by autodialer. Consent is not a condition of purchase. Message and data rates may apply. Message frequency varies. Reply HELP for help or STOP to cancel. View our Privacy Policy and Terms of Service.